I just took a look at
Urban Outfit
and found out tons of cool things!
Most of them are on sale.
Kim Chi Blue Tie Front Knit Pant.
It looks really neat and fashionable. Black is easy to wear with any clothes.
BDG Wide Leg Pleated Twill Trouser.
I just cant stop thinking how cute it is to wear with flower T-shirt <3
Urban Renewal Studded Short.
Actually I like the T-shirt more than the short. With that kind of short, you can DIY. But in other hand, that short is pretty awesome!
Deena & Ozzy Lace-Up Boots.
My favorite boots these days <3
MinkPink Platoon Anorak.
Pretty cute <3
And these are the not - sale - off stuffs:
BDG Knit Denim Buttondown Top.
So freaking cuteee <333 and sexy~ (I always think shirt is seriously sexy lol ) I love it a lot<333
Deux Lux Drawstring Bucket Bag.
Cute! Cute! Then you can
DIY with the studded buttons
underneath the bag :)
Dad 's Reader.
Awww, dad, can I buy it? ;)
Message in a Bottle Necklace.
It is so cuteee! I love it! I just think about what if I change stuff on it so that I can have new necklace everyday :] Also, it s the best idea for giving to your love <3
Camera Necklace.
This is actually not so new but the look is much more detail than the other camera necklaces I have known!
Waylaid Spinal Cord Necklace.
Awesome!!! Also, let check this one:
Waylaid Bare Rips Necklace.
Would be so tough to choose one of them lol
XL Knit Eternity Scarf.
Ummm, I want itttt so baddd!!!
Talking Bubble Stickies.
Kinda cute and cool!
Books:
Get High Now.
Cool book!
Text Photo Album.
Kinda cute~
This Is Not A Book.
I love Keri Smith and her creative books. I already got
Wreck This Journal
and
The Guerilla Art Kit
. which gives you so many ideas for Wreck This Journal.
Besides, this is something different: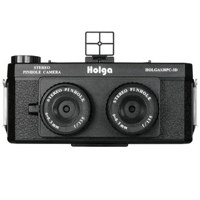 Holga 120 PC - 3D Stereo Pinhole Camera with Standard Tripod Mount.
Awesome!!!
Ahhh I want to buy all :)
PS: I already got my first film pictures!!!! Ya! Ya! Ya! :)